2FA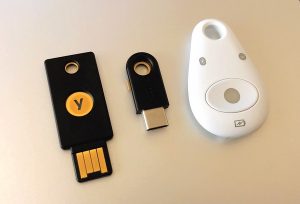 [IT]
Oggi abbiamo aggiornato i servizi di autenticazione di A/I. Con questo aggiornamento abbiamo modernizzato il supporto per un secondo fattore di autenticazione hardware (hardware token), che è stato purtroppo semi-rotto per lungo tempo, ed ora è invece nuovamente funzionale al 100%. Con questo aggiornamento sono state anche introdotte delle lievi modifiche all'aspetto del form di login, non vi allarmate!
Le chiavi 2FA hardware sono ormai diventate relativamente economiche, ed offrono il migliore livello di protezione contro phishing e furto di credenziali attualmente disponibile, quindi vi incoraggiamo caldamente ad utilizzarle.
Per associare un token hardware al proprio account, dal pannello si può selezionare "Gestione Account" > "Abilita 2FA" > "Registra un nuovo token hardware".
[EN]
Today we updated A/I's authentication services to modernize our support for hardware tokens as a second factor for authentication (2FA). The support for hardware tokens had been broken for a long while, but it's now once again 100% functional. With this change we've also introduced some small changes to the layout of the login form – do not be alarmed, this is expected.
Hardware tokens have become relatively affordable, and they offer the best available level of protection against phishing and credential theft, so we strongly encourage you to use one for your account.
To register a new hardware token, from A/I's user panel select "Account Management" > "Enable 2FA" > "Register a new hardware token".