AC*AB – queerfeminist techno party in support of Autistici in Berlin
Se siete a Berlino o dintorni, non perdetevi il benefit techno queerfemminista per A/I che si terrà il 16 marzo a partire dalle 22.
If you are in Berlin or surroundings, don't miss the queerfeminist techno soli-party in support of A/I on the 16 March starting from 10pm.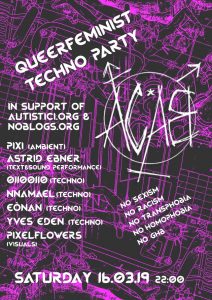 Here's the description of the party:
AC*AB

We are pleased to invite you to our new party AC*AB – "All cunts*cocks are beautiful"! Let's dance. Let's fuck. Let's create our own reality, be it for just one night. Join the fun!

Our aim is to create a queer space, safe from patriarchal structures. We are open to all queer creatures (and their friends). We also happily invite all members of the gay community who want to question the predominance of the masculine ideal within the scene. We want to create a sexually open and kinky environment. Fuck where you like, including the darkroom. Our awareness team is there for you if you experience any problems or uncomfortable situations.

All profits from the party will go to support Autistici.org/Noblogs.org, an independent platform that offers for free mailboxes, blogs, web space, chat, and more to activists all around the world against any surveillance.

We are happy to present a very diverse lineup starting with ambient music and performance, followed by a night full of dark, hard and hypnotic techno sounds.

————

LINEUP:

Pixelflowers (Visuals)
Pixi (Ambient)
Astrid Ebner (Text & Sound Performance)

01100110 (Techno)
Nnamael (Techno)
Eònan (Techno)
Yves Eden (Techno)

————

Please respect the rules of the party:

* No racism, sexism, homophobia, transphobia, ableism or other forms of discrimination. Please be respectful to the other human beings.
* No means no!
* No GHB!