Dietro le quinte di
noblogs

org
noblogs.org:
Connecting radical people. Non commercial, antifascist, antisexist, privacy-oriented blog platform.
Qualche dato
1.000.000 hits/d
6.500 utenti
5.800 blogs (~ 2k attivi)
120 GB di immagini e dati
10 GB di database
0 IP registrati, logs, utenti identificati
Anonimato e privacy:
dura, con una codebase caotica e raffazzonata come WordPress.
Esempio: WordPress multisite rivela # utenti e siti quando verifica gli updates.
(http://core.trac.wordpress.org/ticket/16778)
I plugin: croce (nostra) e delizia (degli utenti)
"Ogni volta che aggiungiamo un plugin a noblogs, un cucciolo di sistemista muore."
Un* autistic*, 2012
Perché tanto odio?
Abbandonati e/o scritti malissimo
Includono risorse esterne (rendendovi tracciabili)
Sono ghiotti di RAM e CPU
Richiedono costante auditing
...e i temi? anche peggio dei plugins!
codice, non solo HTML!
problemi standard: google api, integrazione con twitter/facebbok/disqus/etc
sono incredibilmente ancora meno mantenuti dei plugins!
non esiste davvero un repository unico (wordpress.org/extend/ usato sporadicamente)
WordPress + tante patch
git spacca!
branch upstream con il codice originale
branch noblogs include le nostre patch
(mantenute "in cima" con rebase)
versionamento delle release
(dopo che abbiamo ROTTO TUTTO varie volte!)
rebase di un branch con git
git checkout upstream
git commit -m 'nuove versioni upstream'
git checkout noblogs
git rebase -i upstream

viene riscritta la history:
git push --force origin
mandare in produzione:
git checkout -b noblogs-X.Y.Z
git push origin
Scalare noblogs
good, cheap and fast:
pick three
I dati e i database non possono stare su un singolo server
Inseriamo noblogs nel piano R: i dati sono su 4 server sparsi per il globo.
Wordpress, ovviamente, non è pensato per questo tipo di uso
Il database si partiziona con HyperDB, ma non esiste un modo per partizionare i file degli utenti
uno strato piccolo di database globale
i restanti dati sono distribuiti su diversi backends (post, commenti, etc.) secondo una funzione di indirizzamento
C'è un limite preciso ai dati ospitabili
Latenze: una tipica pagina di WordPress fa circa 70 query al db. Se ogni connessione richiede 0.1 secondi di RTT...
Indirizzamento con flexihash
https://github.com/pda/flexihash
il "consistent hashing"* permette di distribuire il carico su N macchine
minimizza il numero di spostamenti quando viene aggiunto/rimosso un server
il routing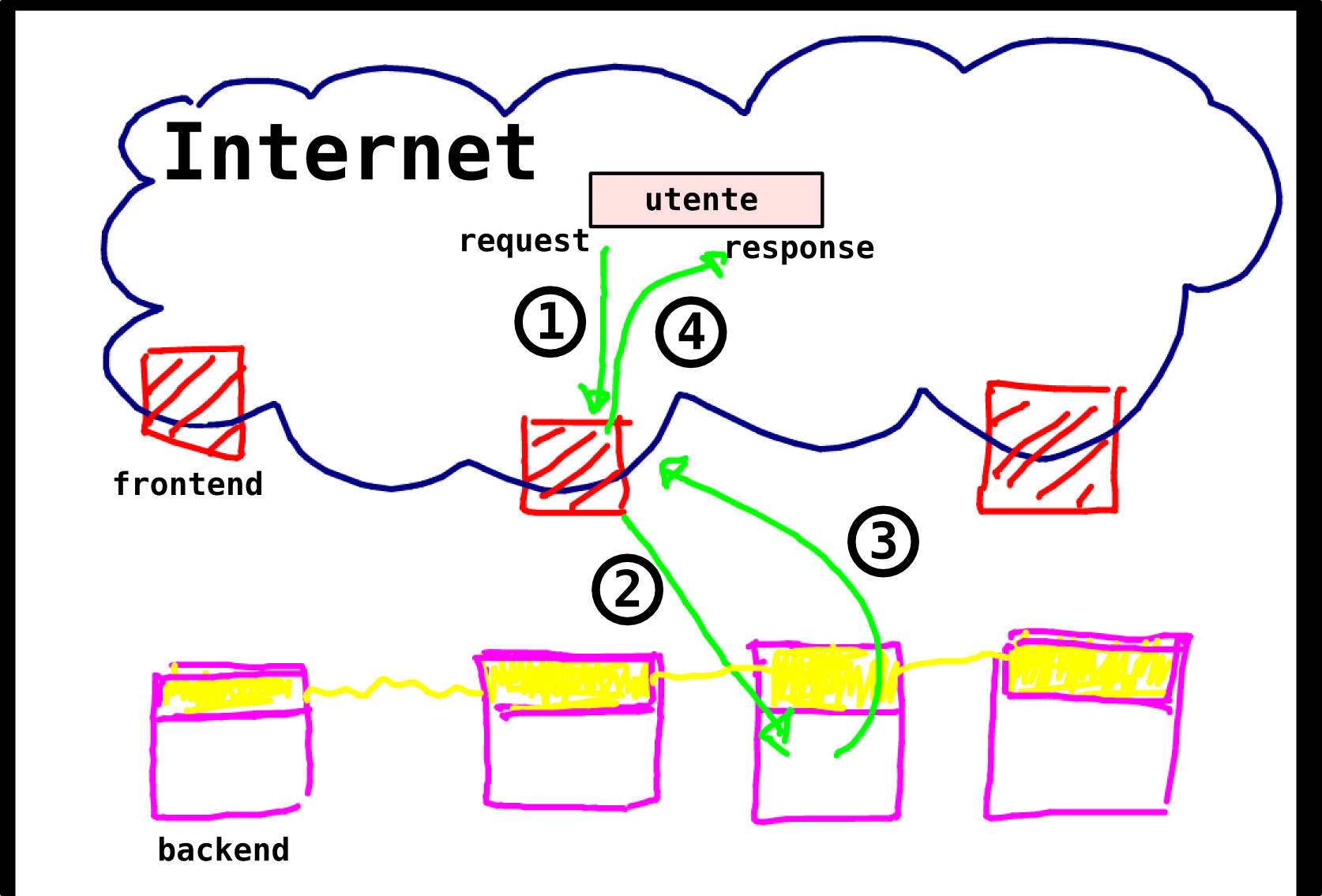 R

: FE/BE
I frontend, usando flexihash, indirizza la richiesta HTTP al BE corretto
WP su tutti i backend, files e database locali, risponde alla richiesta
Il database globale è replicato su tutti i backend
Il RTT e' per una richiesta HTTP, non per 70 query...
Da 6-9s a 0.4s di rendering time!
I tool amministrativi
noblogs, il nostro coltellino svizzero

        $ noblogs info pincopallo.noblogs.org
        ID:          5
        Name:        pincopallo.noblogs.org
        Host:        qualcheserver.example.com
        Status:      active
        Registered:  2010-08-10 12:47:25
        Last Update: 2013-05-05 14:46:10
      
Esempi:

        $ noblogs get-option ossdl_off_cdn_url 5
        5: http://noblogs.ai-cdn.net

        $ noblogs set-option ossdl_off_cdn_url \
            'http://noblogs.ai-cdn.net' 5

        $ noblogs run-cron pincopallo.noblogs.org
        pingopallo.noblogs.org: ok

        $ noblogs close-comments-if-inactive \
            pincopallo.noblogs.org
      
I tool amministrativi
dei wrapper per le operazioni di massa
(che vanno comunque eseguiti in locale)
on-local-blogs su una singola macchina
on-all-blogs su tutte le macchine (via ssh)
aggregate-info aggrega l'output del comando info (per statistiche)
code sharing
vogliamo rilasciare un "WordPress bundle" con le nostre patch
come contribuire
scrivete codice per bene!
(se sviluppate temi e plugins)